About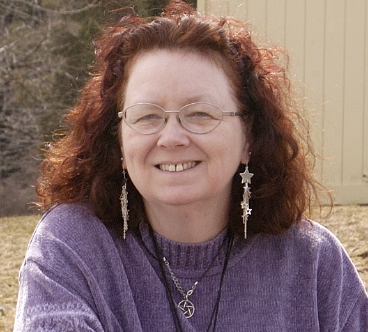 Just a little bit about me.
I am a practicing witch and retired High Priestess. I have worked within the pagan community as a facilitator and teacher. I love the pagan community, with it's diversity and wonderful people.
I am a displaced New Yorker of 43 years, with 12 years living in rural Ohio. I now reside in Bucks County, PA, a happy medium between both areas. It is an area connected to the land within comfortable driving distance to two major cities. To me, that's perfect. I live with my husband and some cats.
I started out doing book reviews, got into Amazon reviewers and at one time was in the top 100 reviewers on Amazon. I reviewed Pagan Books exclusively. No, there were not that many pagan books out there at that time. I augmented my studies with books that were of a much older vintage. Some of the classic works. And the works of the handful of respected authors. I have read and reviewed most of the modern authors. I stopped reviewing when the books being published started to sound like the books that had been published. And yes, it was the same old material repeated again and again, just from another perspective.
I also wrote for Llewellyn's Almanacs. I started about 2003 or so. I have also written for the Tarot Almanac, which is no longer published, the Magical Almanac, the Witches Companion, and the Spell-A-Day calendar. I now write and publish my own works.
The Almanacs offer unique content because the authors are not all the well known authors. While there is a feature by one or two sometimes, most of the work is from up and coming authors, or community people who most folks will never meet. The content is completely different from the usual Llewellyn offerings, and the perspectives are fresh, and unique. I do prefer this format over their usual book offerings. Much more variety.
I worked my way through the Coven of the Mystic Trad, a teaching coven in Pennsylvania, based on a Family Tradition. I have retired from that coven, after serving as High Priestess and Elder with that tradition. It was time for me to move on to what I truly like to do... write and practice magic.
I have produced six books. One is a collection of the best interviews my husband and I did for The Wiccan/Pagan Times. That on-line e-zine is our pride and joy and we ran it together for about 13 years. We retired it, but brought it back recently when we finally settled down in Pennsylvania. Visit the Wiccan/Pagan Times Facebook Page for quick updates and articles from around the web of interest to the pagan community. Also visit our website The Wiccan/Pagan Times.

Two of my books are on Reiki. I became a Reiki Master/Teacher in 2000 after many years of practicing. I have had my own Reiki business and have been teaching for many years, both at Events as well as with private students. Reiki is a form of energy work that is easily achieved by the witches and pagans of our community. It has been used successfully by the pagan community for many years in many different types of practice. My own teachings and experiences, as well as some good ground rules and best practices are in my two Reiki books.
Three of my books are spell books. Over the years I have been a contributing author to the Llewellyn Spell-A-Day calendar, another of Llewellyn's Almanac style books. I have tried to stay away from the usual "recipe" style spells. While they are easy to write and spin out, they do not provide the user with any kind of practical usage. Here is the recipe, go have fun. I would rather explain the process. This is the recipe I used, and this is how you do the prep work, this is how you prepare, this is how you assemble and execute the spell and these are the possible results. Some people find this much more satisfying to read, digest and perform than the usual recipe format. My books take this one step further - they put the entire process into story format. This makes the process easier to understand coming from a personal perspective, and it makes the reading more enjoyable. The focus of spellworkings in the 21 Spells books are success and protection.

My latest spell book, Yes! There's a Spell for That! focuses on giving you a place to start, using basic skillsets, and allowing you to go further with your own preferences to finish off the spells. The spells are the filled in versions of many of the spells I had to cut short in the Llewellyn Spell-A-Day books. There are years worth of tried and true spell basics you may find helpful as a starting place for your spells.
Give the books a read. I hope you can find something that you can take home and use.
I also read Tarot. I have had a small business of reading for events and private sessions and I still do reading for special clients as well as friends. I am looking at a fiction series of books that incorporates my love for the tarot into the plot. This series is "in the works" with the first book now published . I hope to eventually have more books in the series. You can read the first book in that series The Mother in the Gallery.
As for me, hubby and I now reside in Upper Bucks County now. I write when I want, do some teaching on line, and spend time with friends. I have lots of time for contemplation and writing.